COMPATIBILITY
Car Make
Car Models
Year
OE Nr.
Petrol / Diesel
Ordernr
| | | | | | |
| --- | --- | --- | --- | --- | --- |
| Audi | A2 VDO | | | | SA1003-1 |
| Audi | A3 VDO | | | | SA1003-1 |
| Audi | A4 VDO | | | | SA1003-1 |
| Audi | A6 VDO | until 2005 | | | SA1003-1 |
| Audi | TT Jaeger | until 2005 | | | SA1003-1 |
| Ford | Galaxy | until 2005 | | | SA1003-1 |
| VW | Bora | | | | SA1003-1 |
| VW | Golf IV | | | | SA1003-1 |
| VW | Passat | | | | SA1003-1 |
| VW | Sharan | | | | SA1003-1 |
| VW | Transporter(T4 and T5) | | | | SA1003-1 |
| Seat | Alhambra | | | | SA1003-1 |
| Seat | Ibiza | | | | SA1003-1 |
| Seat | Leon | until 2004 | | | SA1003-1 |
| Skoda | Fabia | | | | SA1003-1 |
| Skoda | Octavia | | | | SA1003-1 |
Description
Specification
Note
Downloads
LCD Display With FPC And IC Driver For Audi / VDO Group
Application
Instrument Cluster / Dashboard
Model
Audi A2 VDO / A3 VDO/ A4 VDO/ A6 VDO/ TT Jaeger,
Volkswagen Bora / Golf IV / Passat / Sharan / Transporter (T4 and T5),
Seat Alhambra / Ibiza / Leon (until 2004),
Skoda Fabia / Octavia, Ford Galaxy (until 2005),
Description
1. Same TAB IC driver as OE. Need to clean the PIN from PCB side before soldering.
2. Normal soldering machine with very patient skills would be necessary.
3. If you could remove the OE IC driver from display well for resoldering process, Sacer could provide LCD display with FPC seperately for you.
4. Difference between SA1003-1 & SA1018: Same LCD display but different shape of FPC connector, compatible car models are also different.
5. 100% Brand New product and tested prior to leaving the factory.
Advantages
1. All new design, comparable to the original, perfect brightness, superior color.
2. Work well in the temperature of -20℃ to 70℃.
3. Full Function OQC test and confirm every piece is qualified.
4. Circuit protection design, 2 years European warranty.
Installation
If used in the JEAGER / MARELLI models, for soldering, as the picture shows, aligned and soldering the right pins, the left four pins do not need soldering.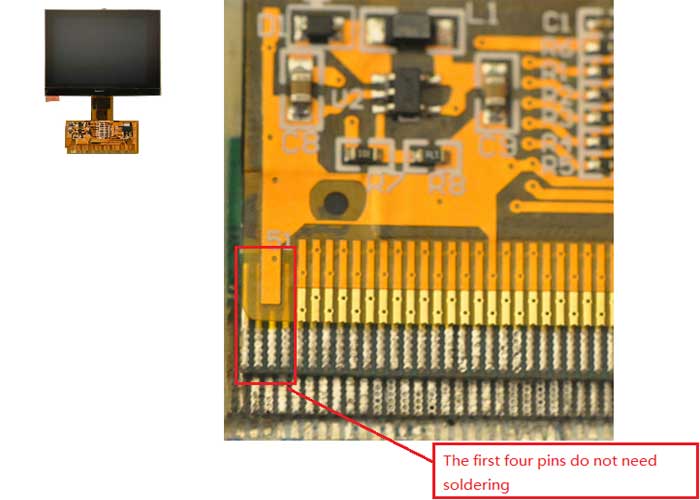 Specification
| | |
| --- | --- |
| Item Number | SA1003-1 |
| Glass Dimension | 74.7*58.2*2.2mm |
| Connect Type | Soldering |
| Connector Type | FPC |
| Applied Position | Instrument Cluster / Dashboard |
| Storage Temperature | -30℃ to 80℃ |
| Operation Temperature | -20℃ to 70℃ |
| Warranty | 2 years |
Package
1. Please carefully inspect the products within 3 Working-Days from the day of receipt, otherwise overdue request will not be covered in warranty.
2. If the exterior-package is broken or parcel is short in quantity when arrived , please apply for compensation from express company.
3. If your received products are broken or damaged or short of quantity when you inspect, please contact with Sacer sales right away.
Warranty
1. please be aware this product is under 2 years' Full Warranty.
2. Every unit is confirmed to get pass a full function OQC test.
3. Finish full function at HALT test. (including temperature test, aging test, drop test, vibration test, salt spray test, destructive test).